INTRODUCTION
The Town of Betterton would greatly appreciate your help in identifying where the lead water service pipes are located in town. We will be able to determine a good plan for replacing all of the lead water service pipes in town once we know how many we have and where they are located. Most lead water pipes were installed before 1960. Records from that time period are not available, so your input is essential in helping us update our records.
A survey form is located at the end of this page; however, please read through information below first. It will show how to determine the material of the water service pipe that is entering your building/home. The location to inspect is the water pipe where it comes into your home, as close as possible to where it penetrates the floor or wall.
TESTS
There are two tests shown below; The Scratch Test and the Magnet Test.
Pipes may be painted, corroded, or covered on the outside, so it is important to perform The Scratch Test to expose the bare metal.
It is hard to differentiate between lead pipes and galvanized pipes, so it is important to perform The Magnet Test to tell if your pipe is magnetic.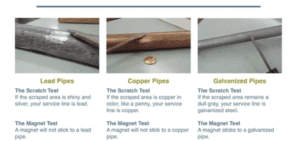 PHOTOS
We are asking you to take 3 photos of your pipe to assist the Town.
All photos should be clear and well lit. Please turn on the flash on your phone.
First Photo: A close up, within 1 foot, of the scratched pipe area.
Second Photo: A photo from 2 to 3 feet away from the scratched pipe area that shows the wall/floor penetration and any connecting pipes.
Third Photo: A photo from 10 feet away from the pipe to show where the pipe is within the room.
You can upload your photos to the survey at the end of this page.
ADDITIONAL INFORMATION
Some additional information and example photos that may help you identify your pipe material is below:
Lead pipes may be thicker than the other pipes in your house
Lead pipes will have characteristic bulbed "wiped" joints where they meet with other materials. Please see an example photo below.
Copper pipes may corrode to a mint green color like the Statue of Liberty.
Galvanized pipes are usually threaded at the connections- they screw into their fittings.
Galvanized pipes are usually straight- they do not curve like lead pipes.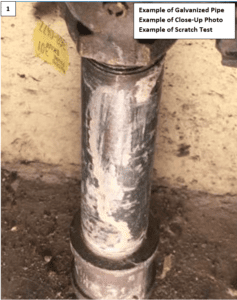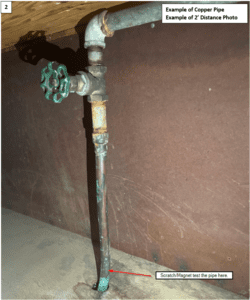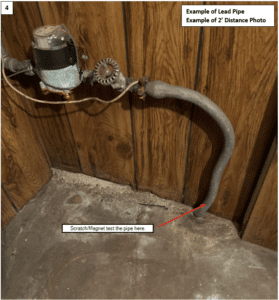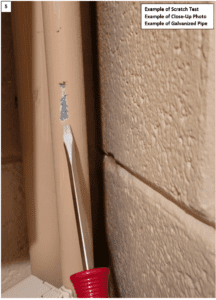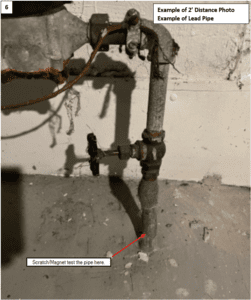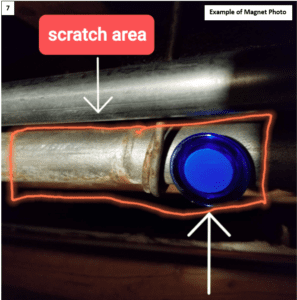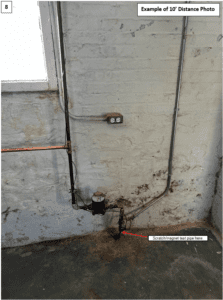 Lead Service Lines Survey